Below is my first op-ed column as an "infrequent" Jerusalem Post columnist. The column will be called "A View from the Hills" and focus on life in Judea and Samaria. This article is on Michael Palmer who lost a son and infant grandson in an Arab terror attack this past September. I strongly believe the nation of Israel and all our friends worldwide must come to the support of Michael Palmer and his family while those accused of the murder are on trial. Contact me to find out about the next scheduled court hearing.
'A view from the hills'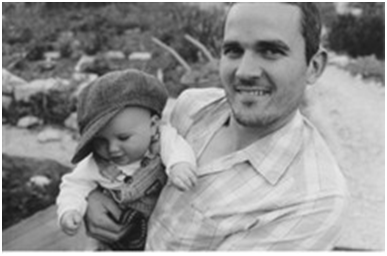 Asher and Yonatan Palmer – HY'D
Wednesday, April 18 marked the resumption of the unprecedented military trial of a five-member Palestinian terror cell accused of murdering an Israeli father and his infant son using a rock as their weapon of choice.
On September 23, 2011, 25- year-old Asher Palmer and his son Yonatan, strapped in his car seat, were murdered in a precisely plotted attack, on the road between Kiryat Arba and Jerusalem. Terrorists laying in wait in their car hurled a rock at Asher's vehicle causing him to lose control and plummet off the road into a ditch killing him and his son.
Asher, whose parents made aliya from New York in 1985, left behind a wife who was pregnant with the couple's second child.
Originally, the police dubbed the incident an accident or an apparent suicide. Several days later it was revealed to the Palmer family that there was unequivocal evidence proving that this wasn't an accident or a suicide, but pre-mediated murder carried out by a Palestinian terror cell.
Click here for the rest of the article.
Trackbacks
There are no trackbacks on this entry.